Ben Grieshaber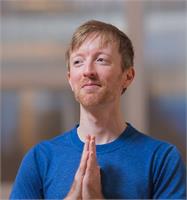 RYT 200
Ben's love of music and rhythm has sent him around the country performing for crowds some nights and crickets others! Regardless of the circumstance, he has always been grateful for the chance to travel, explore and play. Years of sleeping in vans and on floors, heavy lifting and heavier drumming created a lot of tension in his body. Seeking some relief from the chronic shoulder pain and migraines, he showed up to a power vinyasa yoga class. Shazam! Like magic, he felt the built up tensions in his body melt and begin to fade away. The feeling he got after every class was invigorating and uplifting!
As this practice continued to make shifts in him, the urge to explore further sent him to various workshops with master instructors such as Bryan Kest, Shiva Rea, Ana Forrest and Seane Corn, among many others. It was after attending the Teacher Assisting Program with Lisa Black that he decided he wanted to share this gift with others through the art of instructing. He spent a year studying closely with Lisa Black and many of the SHAKTI team in the Teacher Mentorship Program. Continuing on the path to teaching he has completed Level I training with Baron Baptiste in 2011, The Art of Assisting with BPYI in 2013 and Level II with Baron Baptiste. He holds accreditation with Yoga Alliance as an RYT 200.
It is Ben's intention to guide each class with care and attention focused on healthy alignment while allowing the freedom to find your practice and work intelligently at surfing your own personal edge. His hope is to aid in awakening each and every yogi's inner passion for life and help bring light to the world one shining heart at a time!
Happiness is contagious… pass it on!
Ben Grieshaber instructs the following:
Level 1.5 offers the full Baptiste Power Vinyasa Yoga sequence. This class moves at a slower pace than a Level 2 class, but the pace is steady. The instructors offer the modified variations for all of the postures, and students are invited to work at their own levels. This class is the perfect next step for people who have completed the Intro series or for practitioners new to Baptiste Power Vinyasa Yoga.




Focusing on the basics of breath and postural alignment, this class will lead students through sequences that help develop flexibility, core stability, and strength, while maintaining a playful mindset.




Warmed by the heat of the room and candlelight, we'll flow
slowly for the first part of the class releasing tight muscles and freeing the body. Then we'll relax deeply in several yin and restorative postures, dissolving physical and mental tension.




These strong, steady-paced classes flow through the complete, traditional Baptiste Power Vinyasa Yoga sequence. The instructors offer modifications and variations throughout the class so that students of all levels can experience a deep and meaningful practice.