Zak Endicott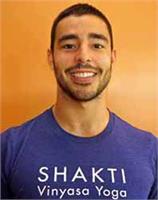 E-RYT 200
Zak is a dynamic, motivating human being who stands for freedom and unconditional love. He was born to spread light and to help others turn on their own inner light. Discovering the yoga path opened his mind and heart to growth, healing and transformation; and his life has become an exciting and fulfilling adventure ever since. He believes that today's yoga movement is the call of people saying we want to heal, live, and love deeply. Together we make a difference. Every yoga class is affirmation that the world can be a peaceful place.
Zak is E-RYT 200 with the Yoga Alliance. He completed Level 1 and Level 2 training with Baron Baptiste in 2010 and advanced teacher training with Ana Forrest in 2014. He teaches workshops and retreats locally and internationally, and facilitates many Shakti programs including Shakti's 200 hour Yoga Teacher Training and Teacher Mentorship Program (TMP). In addition, Zak currently leads Shakti's Introductory Series on Tuesdays at Shakti Bellevue and on Thursdays at Shakti Seattle.
In his personal practice, Zak studies and practices Ashtanga yoga, a more classical form taught traditionally by Sri Pattabhi Jois in Mysore, India, and Forrest yoga, a powerful and healing, contemporary style created by Ana Forrest. He weaves these two influences skillfully into his classes and programs, combining classical practices, along with modern insight and adaptations. Classes with Zak are fun, potent, and unique.
Zak Endicott instructs the following:
This class will move at a steady, flowing pace with options to challenge yourself and to pursue more advanced variations as well as to release and relax deeply. The physical practice will focus on moving through a creative vinyasa sequence that builds strength, stability, flexibility, balance, and body awareness. You will learn foundations of yogic philosophy, breath work, and mindfulness techniques as a part of this rich, comprehensive class. Leave feeling stronger, empowered, and peaceful in your mind and heart from this invigorating and balancing practice.




Basic Level where modifications for the postures are offered. The instructors offer the modified variations for all of the postures, and students are invited to work at their own levels. This class is the perfect next step for people who have completed the Intro series or for practitioners new to Baptiste Power Vinyasa Yoga.