Andreas Fetz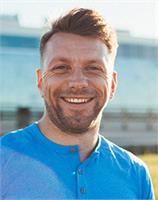 RYT 200
Andreas Fetz took his first yoga class in 2001 and has not looked back since. With a background in acrobatics and circus arts, Andreas is also an NSCA certified personal trainer and brings his deep knowledge of anatomy and exercise science to provide a vigorous yoga practice in a safe environment. Focusing on the basics of breath and postural alignment, he leads flow-inspired classes that help students develop flexibility, core stability, and strength.
Andreas Fetz instructs the following:
Focusing on the basics of breath and postural alignment, this class will lead students through sequences that help develop flexibility, core stability, and strength, while maintaining a playful mindset.




Level 1.5 Creative Vinyasa will move at a steady, flowing pace with options to challenge yourself and to pursue more advanced variations as well as to release and relax deeply. The physical practice will focus on moving through a creative vinyasa sequence that builds strength, stability, flexibility, balance, and body awareness. You will learn foundations of yogic philosophy, breath work, and mindfulness techniques as a part of this rich, comprehensive class. Leave feeling stronger, empowered, and peaceful in your mind and heart from this invigorating and balancing practice.




$45

Join Andreas in a playful exploration of inversions and arm balances, with a focus on the foundations of handstands. Geared towards those just beginning to explore leaving the ground as well as seasoned practitioners, this workshop is designed to give you the tools you need to successfully thumb your nose at gravity and most of all, have fun while doing it. We will explore preparatory poses and move through exercises to develop the strength and flexibility you need to lift off the ground with grace and ease. You will learn how to create stability from your center using bandhas and your core, learn various progressions for inversion work, and play with some transitions between poses. Come ready to learn and play!