Cobey Mandarino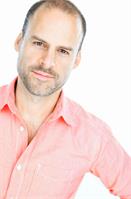 RYT 200
Cobey studied yoga in NYC with Lisa and Charles Matkin, disciples of ISHTA Yoga founder Alan Finger. He was a founding instructor at Stepping Stones Yoga in New York, and also taught at Devotion Yoga and Bread & Yoga in Manhattan. Through his years as an instructor he has developed a genuine, skilled, and powerful approach to teaching that provides his students with the ability to be creative and dynamic on their mats. He is a strong believer in the importance of ujjayi, and believes that the greatest indicator of the quality of one's asana practice is the quality of one's breath.
Cobey is an actor and has worked on Broadway and on the television shows Law & Order, Grimm and Six Degrees. He is also a voiceover artist and can currently be heard on commercials for Redhook Brewery, Washington Lottery and AAA.
Cobey Mandarino instructs the following:
Focusing on the basics of breath and postural alignment, this class will lead students through sequences that help develop flexibility, core stability, and strength, while maintaining a playful mindset.




Level 1.5 Creative Vinyasa will move at a steady, flowing pace with options to challenge yourself and to pursue more advanced variations as well as to release and relax deeply. The physical practice will focus on moving through a creative vinyasa sequence that builds strength, stability, flexibility, balance, and body awareness. You will learn foundations of yogic philosophy, breath work, and mindfulness techniques as a part of this rich, comprehensive class. Leave feeling stronger, empowered, and peaceful in your mind and heart from this invigorating and balancing practice.