Cobey Mandarino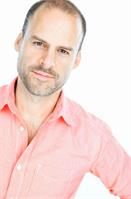 RYT 200
Cobey studied yoga in NYC with Lisa and Charles Matkin, disciples of ISHTA Yoga founder Alan Finger. He was a founding instructor at Stepping Stones Yoga in New York, and also taught at Devotion Yoga and Bread & Yoga in Manhattan. Through his years as an instructor he has developed a genuine, skilled, and powerful approach to teaching that provides his students with the ability to be creative and dynamic on their mats. He is a strong believer in the importance of ujjayi, and believes that the greatest indicator of the quality of one's asana practice is the quality of one's breath.
Cobey is an actor and has worked on Broadway and on the television shows Law & Order, Grimm and Six Degrees. He is also a voiceover artist and can currently be heard on commercials for Redhook Brewery, Washington Lottery and AAA.
Cobey Mandarino is currently not instructing any classes.