Betsey Strater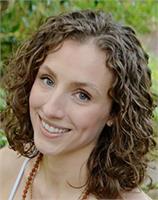 RYT 200
Betsey had picked yoga up and put it back down several times before she was invited to attend the Shakti Yoga Retreat in 2012. From that week on, she was hooked. Betsey found that her mind and body were transformed by the practice of Baptiste Yoga and was empowered by the support of the Shakti community. When she returned, Betsey jumped into the Shakti and Baptiste communities immediately. Betsey has since studied with Baron Baptiste and completed Foundations in Action, Level One, Art of Assisting, and Advanced Art of Assisting. In 2014, Betsey completed her 200 hour Teaching Certification through Shakti as well as the Teacher Mentorship Program. Betsey is also a certified Kid's Yoga teacher.
Betsey teaches and practices yoga to offer the opportunity to be in touch with the beautiful, powerful, and unique energy within us all. Yoga meets you right where you are, in this moment and offers expression, creativity, discipline, presence, connection and stillness. Betsey has found that yoga helps her live more freely and authentically. All that aside, yoga is so much fun! She never misses the opportunity to practice handstand. Betsey creates a space to be challenged by the discipline of the practice but also be light and playful. She is passionate about teaching everybody and every body, supporting them as they discover what is possible through their yoga practice.
Betsey Strater instructs the following:
These strong, steady-paced classes flow through the complete, traditional Baptiste Power Vinyasa Yoga sequence. The instructors offer modifications and variations throughout the class so that students of all levels can experience a deep and meaningful practice.




In this class we will explore the Baptiste Power Vinyasa sequence with a beginers perspective delving in and taking time to break down poses and bring focus on healthy alignment and a strong breath practice. Perfect for everybody!




Level 1.5 Creative Vinyasa will move at a steady, flowing pace with options to challenge yourself and to pursue more advanced variations as well as to release and relax deeply. The physical practice will focus on moving through a creative vinyasa sequence that builds strength, stability, flexibility, balance, and body awareness. You will learn foundations of yogic philosophy, breath work, and mindfulness techniques as a part of this rich, comprehensive class. Leave feeling stronger, empowered, and peaceful in your mind and heart from this invigorating and balancing practice.




Level 1: INTRO to Power Vinyasa 8-Class Pre-Register Series (Tues & Thurs) Designed for beginners or students new to Power Vinyasa Yoga. You will learn the basic alignment and form of the 53 postures in 11 series within the 90 minute Baptiste Power Vinyasa Yoga practice and everyday yoga philosophy and helpful breathing techniques that inspire and empower you on and off your mat. Each class progressively builds on the previous one, preparing most students to move on to Level 2 after completion. Many people enjoy taking Level 1 many times in order to soak up all the information and apply the knowledge to their practice. Demonstration, discussion, personal hands-on adjustments, and guided practice, provide you with a solid foundation of this dynamic style of yoga.