Mariko Johnston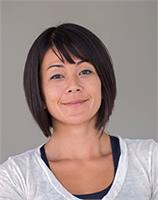 RYT 200
Mariko took her first yoga class in 2006 and was immediately drawn to the physicality of the practice. Though she did practice sporadically over the years, she spent the majority of her time in the gym training clients and herself. That all changed in the summer of 2013. Recovering from an injury, Mariko came to SHAKTI looking for something therapeutic and physically challenging. By the end of her first class she knew she had found what she was looking for...plus a whole lot more. She felt like she had found her home on the mat. She began practicing regularly and the physical practice soon became a spiritual practice. As she learned to deepen the mind-body connection, Mariko discovered the power of soulfulness, mindfulness and living in the present.
Mariko is inspired by helping others, learning from others and creating community through the common language of yoga. She loves nothing more than witnessing the evolution of the human spirit once it is discovered and nurtured. She teaches in the hope of sharing the transformative practice of yoga with everyone. She combines her experience and expertise with training, movement and anatomy to create a challenging and safe environment for students to explore their edge. She often encourages her students to surpass their own expectations. Her classes are designed to challenge and strengthen both body and mind.
Mariko completed her 200-hour teacher training at Shakti in 2014 and went on to complete Shakti's Teacher Mentorship Program working with Zak Endicott and Nicole Tsong. She has attended workshops and classes with Bryan Kest, Tiffany Cruikshank, Amy Ippoliti and Annie Carpenter. Mariko is also a certified personal trainer with specializations in corrective exercise and performance enhancement.
Mariko Johnston is currently not instructing any classes.