Liandren Brown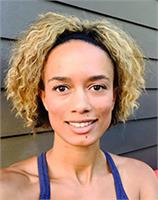 RYT 200
Liandren first practiced yoga in 2004. As a collegiate athlete, playing volleyball for the University of Washington, she was looking for a healthy balance of physical work and calmness of mind. Her life at the time was hectic and challenging with no ease. Liandren then began practicing Hatha, Bikram and Power Vinyasa with different Master Teachers in the Seattle area. She found that Baptiste Vinyasa yoga offered her a chance to work both physically and mentally.
Liandren was so inspired from her developing Baptiste practice that she started on a powerful and inspiring journey to self-discovery and awareness through a daily practice of yoga. Liandren has trained under Baron Baptiste for 3 years and currently holds 1000 hours of teaching experience. She creates a flow for students that allow them to experience the power of yoga as it has changed her life. Her classes are physical and yet playful. The connections built from her surrounding yoga community, will forever empower her existence as a teacher. Baptiste Vinyasa has been a transformative practice that ignites her personal growth on and off the mat. Every time Liandren steps in the room to teach it is a new experience and a new personal journey for her students. She teaches yoga so her students can unleash power and confidence from within and take that home and into the world.
Liandren Brown instructs the following:
Level 1.5 Creative Vinyasa will move at a steady, flowing pace with options to challenge yourself and to pursue more advanced variations as well as to release and relax deeply. The physical practice will focus on moving through a creative vinyasa sequence that builds strength, stability, flexibility, balance, and body awareness. You will learn foundations of yogic philosophy, breath work, and mindfulness techniques as a part of this rich, comprehensive class. Leave feeling stronger, empowered, and peaceful in your mind and heart from this invigorating and balancing practice.




Basic Level where modifications for the postures are offered. The instructors offer the modified variations for all of the postures, and students are invited to work at their own levels. This class is the perfect next step for people who have completed the Intro series or for practitioners new to Baptiste Power Vinyasa Yoga.




These strong, steady-paced classes flow through the complete, traditional Baptiste Power Vinyasa Yoga sequence. The instructors offer modifications and variations throughout the class so that students of all levels can experience a deep and meaningful practice.