Dusty Thompson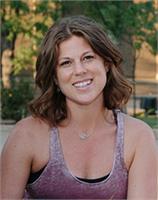 RYT-500
ERYT-200
RN
Dusty Thompson is on a mission to bring health, healing, and happiness to her students through the practice of yoga. Dusty is a born teacher and writer. As a yoga studio owner, (retired) nurse, health nut (juice and smoothie fanatic) and lover of life - she finds balance, understanding and strength in her yoga practice. She has beat the holy hell out of Cancer, ran two marathons, won many games of thumb wars, read thousands of amazing books, and lives trying to answer the universal questions: Who am I? Why am I here?

Yoga has been a game changer; a constant companion along her journey for over 10 years. Tree House Yoga (her Mid-West Yoga Studio) was manifested in 2013, as her desire to help others find the practice grew. Dusty completed her RYT-200 in 2008 at Cityoga of Indianapolis. Too many teachers to name have influenced and inspired her and she gratefully recognizes that each person in our life is ultimately a teacher. In 2012, she set out on a soul journey and after two years (lots of sweat and tears) she graduated from Rolf Gate's RYT-500 training in Charlotte, North Carolina.
Dusty encourages her students to slow down and search within; teaches them to open up space inside their bodies and gently reminds them to always simply breathe.
Dusty believes that all of life is practice and reminds her students of this on the mat each and every class. She pumps her fist in the air every time she reads these words by Steven Pressfield, "Once we turn pro, we're like sharks who have tasted blood, or renunciants who have glimpsed the face of God. For us, there is no finish line. No bell ends the bout. Life is the pursuit. Life is the hunt. When our hearts burst…then we'll go out, and no sooner."
You can find her practicing handstands every chance she gets, teaching what she learns in her yoga classes, laughing really hard, pleading with the muse to shine inspiration on her writings and sharing gritty realism with her closest companions.
Dusty Thompson is currently not instructing any classes.