Eva Lasprogata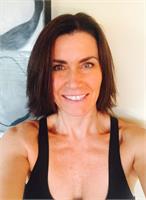 RYT 200
Eva began her yoga practice in 2005 after many years of dance training, weight lifting and gym group exercise. She has been a professor of law, human rights and corporate citizenship for over a decade at Seattle University where she is tenured in the business school. For Eva, her left brain stress from legal analysis, teaching and writing never found complete release at the gym. Yoga, however, was like magic, offering Eva a form of right brain bliss and inspired creativity. The practice of asana and meditation quickly became a part of her spiritual growth which draws further insight from Marianne Williamson, Don Miguel Ruiz, John O'Donohue and First Nations' traditions and worldview. Wanting to share her passion for yoga, Eva entered yoga teacher training in 2008. Teaching for Eva is pure joy! Her classes integrate the physical challenge of the Baptiste power vinyasa flow with her shared life experience, humor and compassion to inspire her students to be their most empowered selves both on and off the mat.
Eva Lasprogata instructs the following:
These strong, steady-paced classes flow through the complete, traditional Baptiste Power Vinyasa Yoga sequence. The instructors offer modifications and variations throughout the class so that students of all levels can experience a deep and meaningful practice.




Level 1.5 offers the full Baptiste Power Vinyasa Yoga sequence. This class moves at a slower pace than a Level 2 class, but the pace is steady. The instructors offer the modified variations for all of the postures, and students are invited to work at their own levels. This class is the perfect next step for people who have completed the Intro series or for practitioners new to Baptiste Power Vinyasa Yoga.