Richard Grace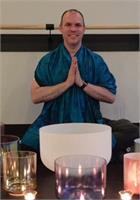 RYT 200
Richard Grace has been teaching yoga since 2012. He is a classical pianist and organist, and began his practice of meditation while studying music in graduate school. Eventually he found yoga, and since becoming a teacher of yoga, has worked to incorporate his love of meditation, music, chanting, and sound healing into his classes. He gives a variety of workshops that incorporate Alchemical Crystal Singing Bowls. Richard is passionate about helping other teachers, and works with local yoga teacher training programs in the areas of meditation, chanting, chakras, music sequencing, and energetic body attunement through sound.
Richard also operates a full-time piano teaching studio in Bellevue, and is a long time church musician. Before moving to the Northwest, he was on the piano faculties at the University of Oklahoma and the State University of New York in Potsdam, where he worked with music education majors and taught piano pedagogy.
Richard Grace is currently not instructing any classes.