Mei Ling Ellis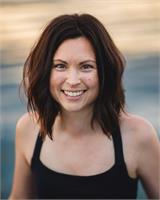 RYT 200
Mei Ling sees yoga as a powerful tool to help calm the body and mind, which can provide clarity and reduce stress--something that is often needed in today's fast paced world. Mei Ling is trained in a flowing, devotional, and classical form of Hatha yoga, with additional training in Restorative yoga and mindfulness. She believes in the inherent strengths and skills in all students, and appreciates the uniqueness of every ability, body, and culture. Her teaching style is grounding, and supports students to move mindfully between the push and pull of life by honoring themselves and deepening the connection to their inner voice. Her personal practice consists of Ashtanga, Yin, and Restorative yoga; including meditation. In addition to teaching yoga, Mei Ling is an applied researcher, clinician, and rock climber.
Mei Ling Ellis instructs the following:
Restorative Yin is yoga at its coolest, quietest, and stillest moments. This gentler, deeply nurturing style of Yin Yoga is a time for deep relaxation and healing. This class will have you on the floor most of the time, using as many props as needed to support you in relaxing into each posture with as little effort as possible. Poses are held for 2-5 minutes allowing joints and fascia to release while restoring balance to your mind, body, and spirit. This class will complement your Vinyasa practice and will open and release areas in need of more flexibility.

Due to the restorative nature of this class, late arrivals will not be granted studio access. Early arrival is strongly encouraged. Please allow extra time for parking and registration to ensure you arrive on time. Thank you.