Catherine Looke Thompson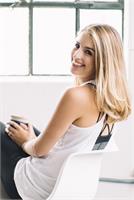 RYT 200
Baptiste Certified
My passion for health, well-being and physical movement inspired me to become a yoga teacher. I want to be able to inspire others the way my teachers have inspired me. I believe yoga to be a practice of awareness; it is about tuning into your body and connecting with your true self. Yoga has provided me with the access to feel empowered in my own body. My mission is to share that access with the world through the integration of nutrition, wellness, and yoga.

I teach a Baptiste inspired creative vinyasa flow with the intention of leaving students connected and present. In my classes I like to mix it up and try new things, take risks, test limits, laugh, and let loose.
My yoga journey began in high school when exploring different varieties of fitness. After a few classes, I noticed a new strength in my body and sense of clarity in my mind. Over time, I experienced less anxiety and felt more grounded. I started to lead my life with more intention and vision, which has inspired me to pursue the things I love such as travel, cooking, food styling, writing, and exploration.
I was born and raised in Houston and grew up with seven siblings, so there was never a dull moment! My husband and I recently moved to Seattle where outside of the studio I work with individuals overcoming eating disorders. I love being outdoors, camping, traveling, gardening, trying new restaurants, and making homemade potions and lotions. You might find me in the kitchen trying new recipes while playing around with food photography or out in the mountains. I have been inspired to weave the principles of yoga into my everyday activities. I love the practices of yoga and mindfulness and how beautifully it is integrated into all aspects of life. I am committed to loving large, having fun, and living a vibrant life.
"The only place you are needed is here and the only reason for being is now." – Rodney Yee
For more information visit me at omnourishthrive.com
Catherine Looke Thompson is currently not instructing any classes.