Andrea Pavela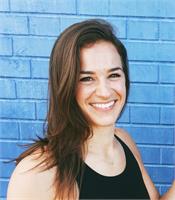 RYT 200
Andrea is passionate about sharing yoga as a platform to explore movement, take risks, and grow towards your highest potential. Her own practice over the last decade has guided her to a more aligned, connected, and curiosity-led life.
Expect a strong, conscious flow, built off alignment principles with lots of opportunities to color outside the lines. A lover of handstands and arm balances, she will challenge your strength and stamina with an infusion of humor in hopes you'll crack a smile in the process.
Andrea completed initial training through Sonic Yoga in New York City. She's since pursued trainings and workshops with the likes of Annie Carpenter, Ido Portal, Dylan Werner, Lorin Roche, Sally Kempton, and Shiva Rae.
Andrea Pavela instructs the following:
Focusing on the basics of breath and postural alignment, this class will lead students through sequences that help develop flexibility, core stability, and strength, while maintaining a playful mindset.




Level 1.5 Creative Vinyasa will move at a steady, flowing pace with options to challenge yourself and to pursue more advanced variations as well as to release and relax deeply. The physical practice will focus on moving through a creative vinyasa sequence that builds strength, stability, flexibility, balance, and body awareness. You will learn foundations of yogic philosophy, breath work, and mindfulness techniques as a part of this rich, comprehensive class. Leave feeling stronger, empowered, and peaceful in your mind and heart from this invigorating and balancing practice.