Two New Classes This Month
Yin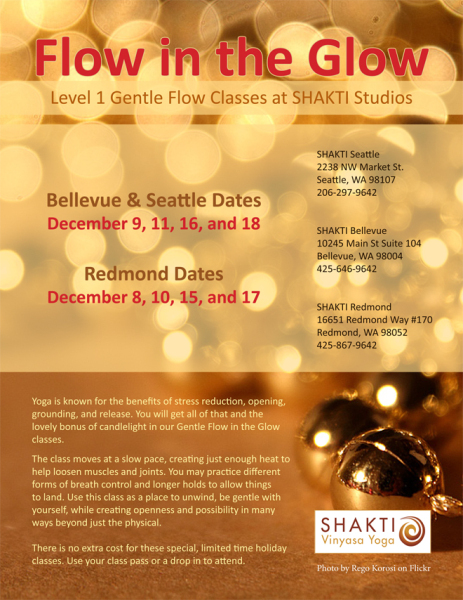 Taught by
Jodi Boone
every third Friday of the month from 7:15 - 8:30pm at SHAKTI Seattle. This class is dedicated to unwinding and relaxing deeply. Due to popularity, this class has been extended indefinitely and will continue to be offered into 2015.
Warmed by the heat of the room and candlelight, we'll flow slowly for the first part of the class releasing tight muscles and freeing the body. Then we'll relax deeply in several yin and restorative postures, dissolving physical and mental tension. Forget your hectic week and start the weekend off in pure bliss!
See
more information
about these upcoming Yin classes.
Flow in the Glow
Taught by various SHAKTI Instructors, this evening class moves at a slower pace to loosen muscles and joints. Different forms of breath control and longer holds will allow things to land. Use this class as an opportunity to explore new openness and flexibility. Be gentle with yourself and unwind from your day.
See more information about these upcoming Flow in the Glow classes at a studio near you:
Seattle
,
Bellevue
,
Redmond
.
Cost
There are no extra fees for these classes - they are covered by your SHAKTI membership.