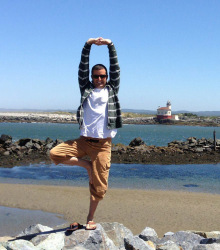 By Rob Bracco
Certified Baptiste Power Vinyasa Yoga Teacher
E-RYT 200
I hear it from yoga teachers all the time: "Your mat is your mirror." When I first started practicing, I heard this and immediately dismissed it as new age baloney. "Your mat is your mat" my cynical mind would immediately bark back. As often is the case with human nature, I dismissed and resisted the very thing I needed most. However, when I finally let the wisdom in, this simple phrase opened the door to the amazing yogic tool - inquiry.
One of the most effective, transformative tools in yoga is the practice of inquiry; Svādhyāya. The idea is to get yourself to a state where you can see yourself, not as you think you are, but as you truly are. Authentically. There are many ways to get to this state of mind. You can go on self-discovery retreats, attend seminars, or complete years of academic study. However, as yogis and yoginis, all we really have to do is look at our mat. It will shows us all we need to know.
When you step on your mat, you bring all of your physical, mental and emotional baggage with you. In your life, do you radiate strength and confidence, or harbor doubt and fear? Whatever it is you are carrying will percolate to the surface as you practice, raw and unfiltered. It tends to show up as emotions. The key is to catch ourselves as the emotions start to take over our mind. Once we become aware of the emotion, and have the strength to look at where it is truly coming from, we start to open to the door to personal transformation.
So how do we do this? Next time you're practicing, catch yourself when you come out of your body. What's the dialog?
"I'll never do a handstand."
"Everyone is so much better than I am."
"How long is this teacher going to keep us in side plank, this is insane!"
"It is way too hot and crowded in here, I can't focus."
Become aware that you are in your head and identify the emotion attached to this dialog. Self-criticism? Embarrassment? Frustration? Anxiety? Fear? Can you turn that emotion into a statement?
"I am aggravated I can't do a handstand."
"I am frustrated at how long the teacher holds poses."
Now, can you focus on the root of the issue and make the decision to give it up?
"I give up doubt."
"I give up self-criticism."
"I give up blaming others."
Then simply let it go. You may need to give something up 50 times in one class (I know I have!) Just keep it up.
Through this exercise, what will emerge are clear patterns. After class, take a moment of self-study. In what poses or circumstances are these emotions surfacing? Balancing? Grounding? Heart openers? When comparing yourself to others? Not meeting your own expectations? Where else in your life are you experiencing these emotions? It won't be long before the "A ha!" lightbulb goes on, and what you need to work on will be clear and obvious. A big breakthrough for me was finally realizing how quickly I resort to cynicism and being dismissive when I don't understand something or feel emotionally uncomfortable.
Our mat is our mirror. It reflects our life right back at us. All we have to do is be present to what surfaces and walls will break down. We just need to be aware, accepting and present to what's possible.